Garmin aera 796 Touchscreen Handheld GPS
With its 3D Vision navigation technology, 7-inch diagonal screen, advanced electronic flight bag capabilities, XM Weather capabilities and much more, the touchscreen aera(TM) 796 ushers in the next era of aviation portables.
Buy Garmin's aera 796 GPS
At Avionics Specialists Today!
Garmin aeraTM 796 Touchscreen Handheld GPS $1699
Touchscreen convenience, unequalled ease of use in the newest Garmin aera. Get the best portable avionics system available, plus free shipping by 2nd Day Air.

Why Buy aera 796 From AvSpec?
AvSpec is a locally owned avionics shop in Loveland, Colorado. Pilots come to us for all of their avionics needs because of our high-quality panel upgrades, customer support and service. We will answer your questions and help you get the most out of your avionics equipment.
Need help with software or database updates? Confused about the most efficient way to use your new 796? We will gladly help you with these or any other concerns. Our goal is complete customer satisfaction. If you want old-fashioned customer support from real people, welcome to AvSpec.
See in Virtual 3-D
Revolutionary new 3D Vision technology shows a virtual 3-D behind-the-aircraft perspective of surrounding terrain derived from GPS and the onboard terrain database - a feature previously only available in our panel-mount avionics. Simply slide your finger across the touchscreen to rotate the view and show land and water features, obstacles, runways and airport signposts in relative proximity to the aircraft. Using its forward-looking terrain avoidance capability, aera 796 predicts in advance where towers or obstacles may exist and shades the landscape with amber or red overlays to indicate those areas. 3D Vision and other flight data are presented smoothly and continuously thanks to the device's internal GPS that provides position updates at a rate of 5 times per second (5 Hz).
aera 796's bright 7" diagonal high-definition sunlight-readable display makes detailed mapping easy to see in any lighting conditions and works in both portrait and landscape mode. The physical design has been optimized to fit on the yoke or for use as a knee-mounted device. There are only 4 touch keys on the bezel representing "Back", "Menu", "Direct-to" and "Nearest" for quick navigation to the most frequent used functions. All other functions are quickly accessed through Intuitive onscreen icons with labels. This unique touchscreen interface even allows you to quickly pan across the map screen and pinch to zoom.
Go Paperless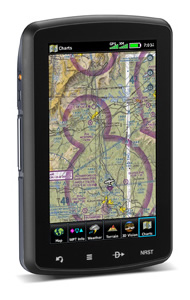 aera 796 fullfills the role of either a Class I or Class II electronic flight bag, greatly reducing the need to rely on paper charts in the cockpit. Initial georeferenced VFR sectional and IRF enroute charts come preloaded that show your aircraft's position overlaid directly on the relevant chart. When in IFR map mode, the 796 can display victor airways, jet routes, minimum enroute altitudes and leg distance, much like what's found on traditional enroute charts. Initial georeferenced Garmin FliteCharts provide approach charts and airport diagrams for the U.S., while pilots who prefer Jeppesen charts and diagrams can use optional Garmin ChartView service, which utilizes Jeppesen's extensive library to provide global georeferenced charting capabilities. aera 796 also includes a robust document viewer, so you can easily pull up weights and balances, flight manuals, raster charts or a wide range of electronically formatted materials you download to the device. A 'scratch pad' feature also allows you to quickly jot down clearances and other pertinent notes while in route, while a checklist viewer allows you to create customized and interactive electronic checklists.
Enhance Situational Awareness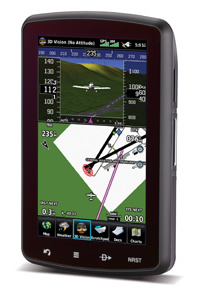 aera 796's built-in terrain and obstacle database not only shows contours in 3D Vision mode, but also allows for a top-down view of your entire route. To help you navigate around unfamiliar airports, SafeTaxi® provides detailed taxiway diagrams and position information for over 1,000 U.S. airports, while a private airport and heliport database greatly expands your emergency 'nearest' options. FBO, ground transportation, lodging and other facility information for most U.S. airports are also available through preloaded AOPA Airport Directory Data; international pilots may choose to opt for global AC-U-KWIK airport directory data instead.
Access Weather and Radio
A GXM 40 smart antenna is included with aera 796, giving you access to high-resolution weather and audio entertainment right in the cockpit (XM subscription required). XM WX(TM) Satellite Weather includes next generation radar (NEXRAD), aviation routine weather reports (METARs), terminal aerodrome forecasts (TAFs), temporary flight restrictions (TFRs), lightning, winds aloft and more for the U.S. and Canada. In addition, the 796 can receive PIREPs, turbulence forecasts, icing forecasts and more. The weather data can be laid directly over the unit's navigation and topographic map databases. Plus, with 170+ channels of digital music, news and programming through your aircraft headset or cabin audio system, you'll stay informed and entertained.
Expand Your Portable
Thanks to its 2 serial ports, aera 796 allows for simultaneous connectivity with other hardware. With an optional Garmin GTX 330 Mode S Transponder Interface, you can access Traffic Information Service (TIS) alerts, where available, right on the device while also sending frequencies to a Garmin SL30/40 radio or relaying position reports to other devices.
Stay Up to Date
By adding optional City Navigator maps, both helicopter and fixed-wing pilots add street addresses as waypoints or direct-to destinations. The aera 796 features a front-loading SD(TM) card reader, so you can easily update your databases. Manage your databases directly through www.flyGarmin.com and purchase affordable updates as soon as they're available.
Buy Garmin's aera 796 GPS
From Avionics Specialists Today!
Call us for a free, customized consultation on aviation GPS. We know and use these products ourselves, and we can help you make the decision that is right for your needs. Call 970.203.0505 or you may send us a message using the form below.
Garmin aeraTM 796 Touchscreen Handheld GPS $1699
Touchscreen convenience, unequalled ease of use in the newest Garmin aera. Get the best portable avionics system available, plus free shipping by 2nd Day Air.

Garmin aera(TM) 796 Touchscreen Handheld GPS Quick Reference Guide (PDF)
Garmin aera(TM) 796 Touchscreen Handheld GPS Pilot's Guide (PDF)
Garmin aera 796 Touchscreen Handheld GPS email inquiry form.